GREAT NEWS – THE INTERNATIONAL ISLAND GAMES ARE COMING TO ORKNEY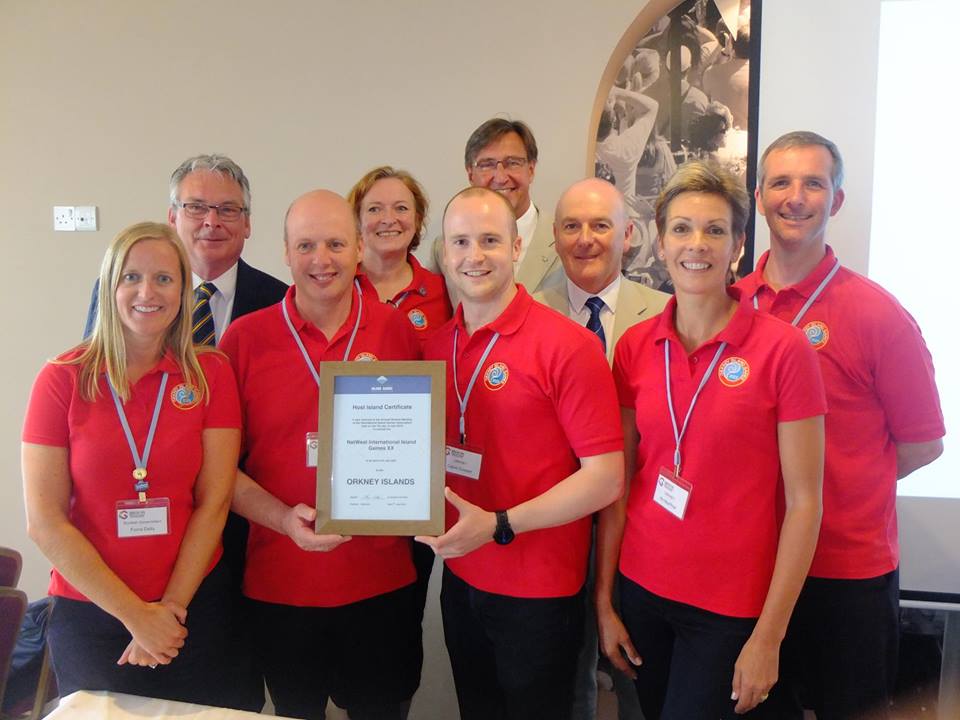 Orkney- The Perfect Host
With a population of over 21,000 across its 70 islands, Orkney is a welcoming community with a real passion for sport.
Orkney's capital, Kirkwall is a busy and vibrant town with great shops, restaurants and bars. It will host many of the sports as well as provide much of the accommodation for those visiting for the Games, through use of local schools and community halls. Nevertheless, beyond Kirkwall, Orkney has much more to offer visitors eager to experience the islands' unique culture, heritage and traditions.
Transport links to and from Orkney are provided by air and sea. The nearest International Airport is Aberdeen, which offers a 50 minute domestic flight to Kirkwall or transfer by ferry to Kirkwall on a journey lasting 6 hours. Shorter sea crossings can be taken across the Pentland Firth, while direct flights are also available from Edinburgh, Glasgow and Inverness.
EventScotland
EventScotland is working to make Scotland the perfect stage for events. By developing an exciting portfolio of sporting and cultural events EventScotland is helping to raise Scotland's international profile and boost the economy by attracting more visitors. For further information about EventScotland, its funding programmes and latest event news visit www.EventScotland.org. Follow EventScotland on Twitter @EventScotNews.
EventScotland is a team within VisitScotland's Events Directorate, the national tourism organisation which markets Scotland as a tourism destination across the world, gives support to the tourism industry and brings sustainable tourism growth to Scotland. For more information about VisitScotland see www.visitscotland.org or for consumer information on Scotland as a visitor destination see www.visitscotland.com.
International Island Games Association (IIGA) Background
Founded in 1985, as part of the Year of Sport, the first edition of "inter-island" games was hosted with 700 athletes from 15 islands taking part in 8 eight different sports in the Isle of Man and has been held bi-annually since and grown considerably in its membership and athlete participation levels and is known as the "friendly Games".
In 1998, the Games secured sponsorship with NatWest International, which provides financial assistance to host islands to ease the significant cost of hosting such a large-scale event.
The Games were first secured for Scotland in 2005, when Shetland hosted a successful NatWest International Island Games, 9-15 July 2005.
Gibraltar will be hosting the NatWest International Island Games in 2019. After a Covid-disrupted 2021, Guernsey will be hosting the Games in 2023.
The International Island Games Association (IIGA) is made up of 24 member islands who come together every two years to compete in friendly competition and can attract over 2,000 athletes. Legacy is a very important part of the ethos of the Games and bringing islands together.
The IIGA is based in the Isle of Man and the IIGA Executive consists of a Chairman, Vice Chairman, Treasurer, and three members together with a Co-opted Member and an Honorary Legal and Honorary Medical Advisor. All of whom, with the exception of the Co-opted Member, are elected every four years at the Annual General Meeting by representatives of the IIGA Member Island Associations. For more information, please visit www.iiga.org
For Visitor Information
For information on VisitScotland
For information on Business Events
For information on EventScotland
For information on Travel trade