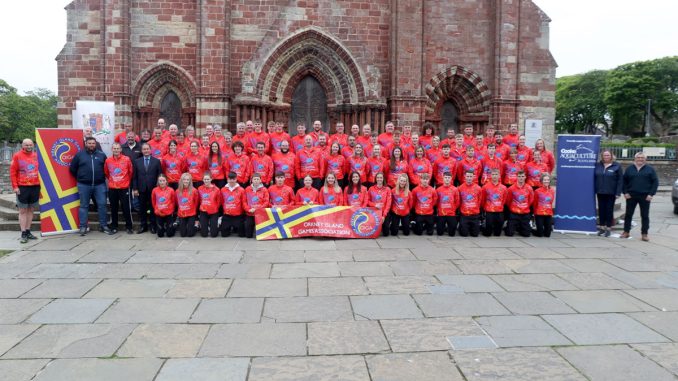 Orkney Island Games Association 2023 has announced the names of all competitors travelling to the International Island Games which are being held in Guernsey from the 8th to the 14th July this year. Twelve different disciplines are being represented by the almost 100 competitors & officials travelling south.
The OIGA 2025 Committee is also sending a delegation on a fact-finding initiative, in preparation for the games in two years' time – which are being hosted here on Orkney.
The teams travelling to Guernsey are:
Archery – 4 competitors
Athletics – 16 competitors
Badminton – 10 competitors
Bowls – 5 competitors
Cycling – 3 competitors
Mens Football – 20 competitors
Golf – 8 competitors
Small Bore Shooting – 1 competitor
Clay Pigeon Shooting – 3 competitors
Sailing – 3 competitors
Swimming – 6 competitors
Triathlon – 4 competitors
The team will leave on a specially diverted sailing of NorthLink Ferries Shetland to Aberdeen service, which will call in to Kirkwall late on Thursday night the 6th July. After two chartered direct Loganair fights from Aberdeen to Guernsey on Friday, the team will be ready for the formal opening ceremony on Saturday 8th – returning home the following Saturday.
Leading Team Orkney at the opening ceremony will be veteran of 7 games Andrew Leslie from the Sailing team who will be proudly waving the Orkney flag as our Flag Bearer. In line with tradition, as the youngest member of the team, swimmer Alfie Price will have the honour of being the Water Carrier at the ceremony. Alfie celebrated his 14th birthday just weeks ago.

OIGA Chairman, Garry Burton, said he was excited and looking forward to a successful competition for all concerned. "After the disruption of Covid and what feels like years of planning, it is nice to be finalising all the arrangements and I want to give sincere thanks to all of those involved, in particular the Executive Committee for their tireless and selfless work as well as to our sponsors for their invaluable support without which it would be impossible for us to take part" said Mr Burton.
There are some high hopes within the teams with everyone looking forward to actually arriving in Guernsey and putting the months and years of training and practice to the test.
Orkney's overall Team Manager for 2023, Edgar Balfour, said he was also looking forward to the actual competition getting under way. "For many competitors this will be their first games, and possibly the biggest event they will ever take part in. Others will be seasoned competitors. With International teams from literally all over the world it is like a mini-Olympics for the Islands. The standards can be very high indeed – so it is a unique opportunity to measure yourself against the best", said Mr Balfour. "But, regardless of whether you finish first or last, the main thing is that every single competitor does their very best, and that they represent our Islands with passion and pride. Medals are a bonus – but I wouldn't refuse one or two if they came along" concluded Mr Balfour.
Speaking on behalf of Diamond Sponsor Scottish Sea Farms, Orkney Regional Manager Duane Coetzer said: 'Competitor, coach or supporter, anticipation is building for Guernsey 2023 and seeing the team in their official kit really adds to that. Years of training, hard work and dedication will be put to the test, with personal bests sought and medal positions vied for, and I'm sure we speak for all sponsors when we say we'll be rooting for Team Orkney throughout.'
| Name | Event/Position | Role |
| --- | --- | --- |
| Garry Burton | OIGA Chairperson | OIGA Chairperson |
| Edgar Balfour | Orkney Team Manager | Orkney Team Manager |
| Stewart Stanger | Archery | Competitor |
| Helen Corsie | Archery | Competitor |
| Michael Leslie | Archery | Competitor |
| Robert Craigie | Archery | Competitor |
| Graham Shearer | Athletics | Athletics Coach |
| Inga Linklater | Athletics | Athletics Team Manager |
| Mags Macrae | Athletics | Athletics Coach |
| Ava Luke | Athletics | Competitor |
| Effie Thomson | Athletics | Competitor |
| Emily McArthur | Athletics | Competitor |
| Lucy Kenyon | Athletics | Competitor |
| Max Linklater | Athletics | Competitor |
| Ali MacKenzie | Athletics | Competitor |
| Bobby Harcus | Athletics | Competitor |
| Ewan Foubister | Athletics | Competitor |
| Amy Davis | Athletics | Competitor |
| Charlotte Hume | Athletics | Competitor |
| Erika Marwick | Athletics | Competitor |
| Lillie Giggle | Athletics | Competitor |
| Tegan Spence | Athletics | Competitor |
| Alexander Scott | Athletics | Competitor |
| Craig Moar | Athletics | Competitor |
| Aly Kemp | Athletics | Competitor |
| Tom Lambert | Badminton | Badminton Coach |
| Moira Nicolson | Badminton | Badminton Team Manager |
| Gemma Foulis | Badminton | Competitor |
| Jody Groundwater | Badminton | Competitor |
| Shannon Leslie | Badminton | Competitor |
| Erlend Ballantine | Badminton | Competitor |
| Sam Groundwater | Badminton | Competitor |
| Emma Work | Badminton | Competitor |
| Rebecca Reid | Badminton | Competitor |
| Andrew Reid | Badminton | Competitor |
| Matthew Reid | Badminton | Competitor |
| Tommy Ballantine | Badminton | Competitor |
| Barry Bruce | Bowling | Competitor |
| Craig Rendall | Bowling | Competitor |
| John Hamilton | Bowling | Competitor |
| Kevin Waters | Bowling | Competitor |
| Mark Causer | Bowling | Competitor |
| Neil Lyon | Clay Shooting | Competitor |
| Mervyn Sinclair | Clay Shooting | Competitor |
| Michael Drever | Clay Shooting | Competitor |
| Magnus Mackay | Cycling | Competitor |
| Norman McLennan | Cycling | Competitor |
| Torquil Clyde | Cycling | Competitor |
| Jason Scott | Football | Competitor |
| Owen Young | Football | Competitor |
| Aidan Foubister | Football | Competitor |
| Callan Jessiman | Football | Competitor |
| Connan Rendall | Football | Competitor |
| Craig Harrison | Football | Competitor |
| Daniel Hourston | Football | Competitor |
| Ewan Stevenson | Football | Competitor |
| Findlay Cooper | Football | Competitor |
| Jamie Flett | Football | Competitor |
| Jay Foubister | Football | Competitor |
| Kyle Drever | Football | Competitor |
| Lee Rendall | Football | Competitor |
| Liam Delday | Football | Competitor |
| Liam Valentine | Football | Competitor |
| Niall Mackay | Football | Competitor |
| Scott Swannie | Football | Competitor |
| Steven Hellewell | Football | Competitor |
| Toby MacLeod | Football | Competitor |
| Wayne Kirkness | Football | Competitor |
| Colin Kirkpatrick | Football | Football Coach |
| Colin Risbridger | Football | Football Coach |
| Charles Alway | Football | Football Team Manager |
| Colin MacLeod | Football | Football Official |
| Graeme Leask | Football | Football Official |
| Ewan Rendall | Golf | Competitor |
| Lee Findlay | Golf | Competitor |
| Steven Rendall | Golf | Competitor |
| Stuart Thomson | Golf | Competitor |
| Kathleen Sutherland | Golf | Competitor |
| Michelle Clouston | Golf | Competitor |
| Nicola Sutherland | Golf | Competitor |
| Shona Slater | Golf | Competitor |
| Douglas Slater | Golf | Golf Team Manager |
| Kavan Kynoch | Sailing | Competitor |
| Andrew Leslie | Sailing | Competitor |
| Joshua Brown | Sailing | Competitor |
| Ross Donaldson | Small Bore | Competitor |
| Eve Wood | Swimming | Competitor |
| Jenna Clapham | Swimming | Competitor |
| Alfie Price | Swimming | Competitor |
| Fraser Burton | Swimming | Competitor |
| Jack Wallace | Swimming | Competitor |
| Kieran Smith | Swimming | Competitor |
| Emma Wood | Swimming | Swimming Team Manager |
| Inga Burton | Swimming | Swimming Team Coach |
| Derek Allan | Swimming | Swimming Team Official |
| Alison Leitch | Triathlon | Competitor |
| Jo Donaldson | Triathlon | Competitor |
| Marcus Shearer | Triathlon | Competitor |
| Claire Rendall | Triathlon | Competitor |