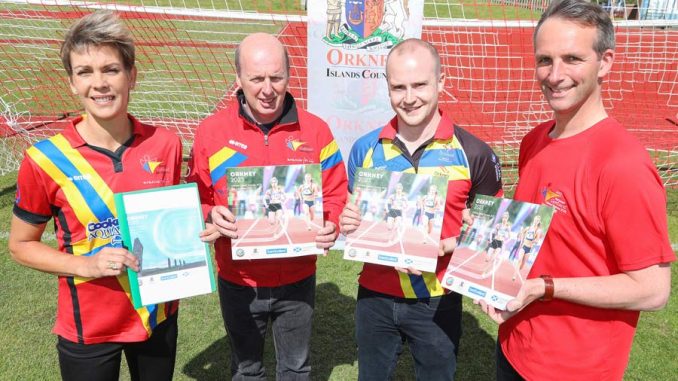 Orkney's bid to host the 2023 Island Games is one step closer to reality after it received the backing of the International Island Games Association (IIGA) Executive Committee.
Following an inspection visit to Orkney by an IIGA delegation in November 2017, a report was presented at the Committee meeting at the end of March and the IIGA has recommended that Orkney can successfully host the 2023 event.
The final decision, however, will be taken by all 24 member islands at the IIGA AGM, which takes place on 7th July in Gibraltar, the host for the next Games in 2019. Orkney's Bid Committee, which includes representatives from the Orkney Island Games Association, Orkney Islands Council and EventScotland, on behalf of Scottish Government, will present their proposals at the AGM and respond to any questions member islands might have.
Orkney has been a member of the International Island Games Association since its inception in 1985 and for a number of years has had aspirations to host the Games. The recent development of high-class sports facilities has put Orkney in prime position to secure this international multi-sport event, which would attract up to 2,000 visitors to the islands.
The event is also a chance to celebrate the best of Orkney through its place, produce and people as well as opportunities to create a lasting sporting legacy for the islands, whether through participation or the development of coaching and other supporting roles.
The host islands can choose between 12 and 14 different sports for their Games. Following the bid committee's close work with local sporting bodies, the 2023 Island Games is set to feature 13 sports – Archery, Athletics, Badminton, Clay Shooting, Football, Golf, Gymnastics, Lawn Bowls, Road Cycling, Sailing, Squash, Swimming and Triathlon.
Liam McArthur MSP, Orkney 2023 Bid Chairman, said: "A lot of hard work has gone into preparing Orkney's bid to host the 2023 Island Games and we're delighted to receive this positive endorsement from the International Island Games Executive Committee. It follows a highly successful IIGA inspection visit last year, which showcased what Orkney has to offer in terms of excellent sporting facilities and a real appetite to put on a high quality Games.
"As well as the strong support we have had from those involved in all 13 sports chosen for the Games, a key part of our bid has been to develop a strong accommodation model. Recognising the growing popularity of Orkney as summer tourism destination, we have taken account of this and have focused on school and community halls to help provide the majority of our accommodation solutions. This is a model that has been used successfully by hosts of previous NatWest International Island Games.
"Putting the community at the heart of our bid, of course, will be crucial to giving international visitors a real flavour of Orkney and its people, while also delivering a world class Games. We are very grateful for the support we have received so far, including from our key partners. We aim to secure this fantastic international multi-sport event for Orkney and deliver a memorable and friendly Games in 2023. I look forward to presenting our bid to member islands in July and showing everything Orkney has to offer."
Held every two years, the NatWest International Island Games brings together the 24 member islands of the IIGA to compete in friendly competition and bringing islands together.
For further information please contact:
Amy Wright, Events PR & Media Manager, EventScotland
0131 472 2286 // 07966 002 009 // amy.wright@ eventscotland.org
Robbie Fraser, Orkney Bid Committee member
07753 660 407// robster.cot@gmail.com