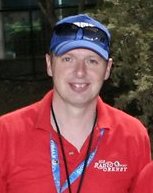 The Orkney Island Games Association has appointed a new Chairman to lead the team to Jersey.
Former Vice Chair Robbie Fraser has taken over from Ross Donaldson after being voted in at the Association's AGM. Robbie, who works for BBC Orkney, has described the role as a challenging one, but a great honour. He'll now help continue the process of preparing Team Orkney for the 2015 games and beyond. He has also paid tribute to the efforts of his predecessor. He said: 'Ross has served on the committee for the last 21 years, the last 9 as chairman, so we owe him a huge debt of gratitude. Throughout that time he has remained committed to representing Orkney within the island games family and it's a feat that's unlikely to be matched'.
'As far as I'm concerned I'm looking forward to taking a large team to Jersey in 2015. There are so many talented sportsmen and women in Orkney and I feel that it's important that as many of them as possible get the chance to compete as this high level. The job is a challenging one but it's a challenge that I'm relishing and I hope that I'll be able to serve Orkney well over the coming years'.