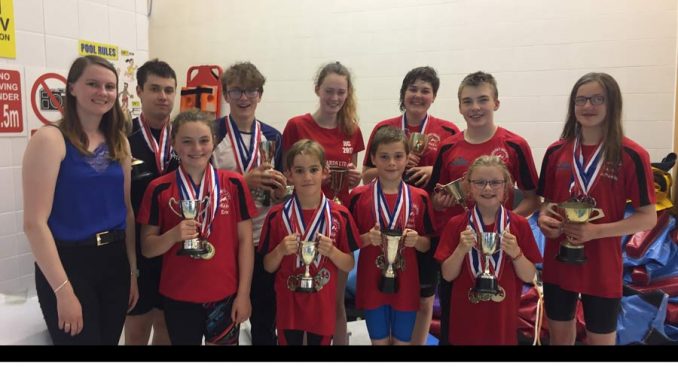 62 Orkney ASC swimmers, aged from 8 to 23, took part in the Orkney Age Group Championships, at the Picky Pool last Sunday. Significant successes were seen across the board, with over 20 new and over 160 personal best (PB) times produced.
In the 9 and under group trophy winners were Jenna Clapham, with 4 gold, and Innes Dufort Kennett, with 3 gold and one silver. Podium spots, PB's and new times were well spread among this age group, also comprising Freya Aberdein, Harry Bichan, Stella Blowfield, Sydney Buck, Craig Burton, Robbie Clark, Emilie Frier, Ava Hamill, Magnus Kirkpatrick, Rafi Linklater, Ben Sinclair, Freja Sundholm-Durkin, Joe Thomson, Eleanor Watt and Arwen West, some of whom were competing in their first Gala.
Trophy winners in the 10-11 group were Erin Robertson and Daniel Reid, both taking 5 gold and producing several good PB's. Alongside them Finn Aberdein, Liam Budge, Tam Clark, Amelie Clyde, Fraser Cooper, Mia Craigie, Amelie Clyde, Rhiannon Firth, Sam Groundwater, Lucy Kenyon, Ben Kolthammer, Max Linkater, Gracie MacLeod, Alida Peters, Taylor Phillips, Leah Robertson, Zara Simpson, Anne Smith, Libby Smith, Annie Spence, Amelia Tomalin and Eve Wood produced some exciting battles for qualifying and podium places, leading to many PB's and new times in both heats and finals.
With fewer entries the 12-13, 14-15 and 16 and over groups went straight to finals, the 12-13 winners were Michaela Ratter, with 3 gold and 2 silver, and 5 PB's, and Daniel Kirkpatrick with 4 convincing gold medal wins. Taking home the trophy for the 14-15 girls was Jean Blance, in a close tussle with Emma Henderson, and for the boys Hamish Burgon, with PB's in all events and taking gold in all but one. In the 16 and over group Kelsi Taylor took the trophy, after battling with Louise Robertson throughout and the boys trophy went to Masters swimmer Florian Selot, with some impressive new times. Fraser Burton, Ella Dalrymple, Pip Graham-Bishop, Ella Leitch, Caitlin Smith and Jayden Taylor also produced several solid and good PB swims in the 12-13 finals, as did Isla Aiken, Kieran Bradley, Kalvin Clark, Alexander Keenan, Laura Robertson, Becky Sinclair, Kieran Smith and James Walker in the 14-15 finals.
Thanks to Sutherlands Pharmacy for their generous sponsorship of the event, James Linklater (Northlink) for presenting medals, Ellen Clyde (Sutherlands) for presenting trophies, and to all officials and coaches for their help throughout the event.