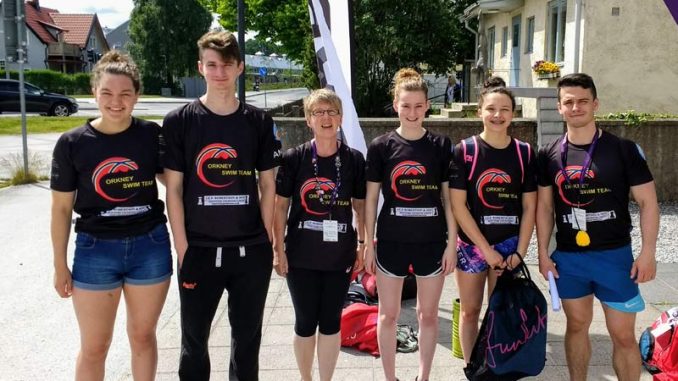 The Orkney Island Games Swim team (swimmers Molly Blance, Kerris Sinclair, Mia McAllister and Angus Blance, coach Gordon Mowat and team manager Helen Rothnie) are back in Orkney reflecting on what turned out to be a brilliant week of swimming at the NatWest Island Games 2017 in Gotland.
Arriving in Visby a few days ahead of competition allowed time to settle in and adjust to new surroundings in good time prior to the 4 days of swimming competition. Two pre-competition training sessions at the weekend familiarised the swimmers with the set up at the Solberga Pool, and gave them a feel for the water. The team was immensely proud of coach Gordon Mowat being chosen as the flag bearer for the whole Orkney team at the Games opening ceremony, which took place on the Saturday evening in the beautiful medieval walled city of Visby, and created a buzz of excitement and anticipation among the whole team.
In addition to the swim team, Orkney ASC swimmers Bobby Oag and Alison Leitch were in action in the triathlon on the Sunday. A fantastic performance from Bob, as always, earned a bronze medal in the men's triathlon. And a fantastic performance also from Alison saw her finishing in 13th place overall in the women's event. Orkney ASC was well represented at the games so far, and the swimming hadn't even started!!
The swimming events got underway on Monday morning, with Angus first up in the men's 100 breaststroke, coming in 9th overall a second under his entry time. Next up were Mia and Molly in the women's 50 breaststroke. Molly exactly matched her PB and entry time exactly, coming in 8th, while a blistering race from Mia, taking a second off her PB to finish in a new Orkney record time of 32.71, saw her seeded 3rd in an Island Games final in her first ever swim at this competition!! The team was ecstatic.
The remaining swims in the Monday heats session were Kerris in the women's 200 free and Angus in the men's 200 individual medley (IM). Kerris swam a well-paced race, finishing 13th overall at just over her PB Orkney record time for this event, while Angus came in 14th in the men's field in a new PB for this event in 2:19.70.
Back to the pool for the finals in the evening, the atmosphere was electric in the Orkney team, with Mia focused and ready for her first Island Games final. In another astonishing turn of speed, Mia managed to steady the nerves and improve her heat time still further, setting another new Orkney record of 32.67 got 50m breaststroke, and missing a bronze medal position by only 0.19 seconds. As a point of interest, all 3 Scottish island groups at the games were represented in this final, with Kara Hanlon of the Western Isles taking the gold, Mia in 4th, and Jasmin Smith of Shetland in 5th place.
Buoyed up by Mondays successes, spirits were high in the Orkney camp as they returned to the pool on Tuesday morning for one of the busiest sessions of the week. Molly swam well in two events in quick succession, coming in 14th in the women's 200m breaststroke (an event for which she holds the Orkney record) and 16th in 100m backstroke. Meanwhile, Angus powered to a great new PB of 1:01.20 in the men's 100 fly, edging ever closer to the Orkney record, and finishing in 16th place in a very fast field. Mia went into the 50 fly seeded highly on a long course converted time, finishing in 8th place just on her short course PB (and her own Orkney record time). Kerris was in the last swim of the morning, women's 200m IM (in which she recently set an Orkney record) and finished in 11th place just shy of her record time.
Seeded in the top 5 for 800m freestyle, Kerris was automatically in the finals session for this event, and the team was back at the pool to cheer Kerris on as she powered through this tough event, coming in 7th place overall, improving on her Jersey placing from 2 years ago.
After another good night's sleep, it was back to the pool for another day of racing on Wednesday morning. First up today was Angus, who put in a good performance in the men's 100m IM to finish 11th overall well under his entry time and just outside his own PB and Orkney record set recently at Junior Inter County. Kerris put in a great swim in the women's 400m freestyle, finishing in 6th place (2 higher than 2 years ago in Jersey) — a good result that would have made the final in any other games (normally at least a 6-lane pool).
Mia continued her run of breaststroke success , demolishing her PB by 3 seconds to set a new Orkney record of 1:13.66 and qualify for the final in 4th place. Molly finished in 14th place in this event also. Angus was next up in the men's 100m freestyle, finishing in 14th place overall amongst some very tough competition in a new PB time of 56.39. After only a short recovery time, Angus was back in the water for the men's 50 fly, where he found he still had loads in the tank, achieving a great new PB of 27.34, breaking the Orkney record of 27.4 set by Orkney swimming legend Jimmy Poke back in 1987. Molly finished off the Wednesday morning session with a well paced 200 backstroke.
Back at the pool on Wednesday evening for Mia's 2nd breaststroke final, the team was riding high. Mia put in a tremendous swim, going faster again than in the heats, finishing in another new Orkney record time of 1:13.14 and again just outside a medal position, with Jasmin Smith of Shetland just getting 3rd place at the touch.
Thursday is the last day of the swimming competition at the Island Games, and again all four Orkney swimmers were in action. Getting off to a great start in the first event of the day (women's 100m IM), Mia and Molly both finished with new PB times, with Mia setting a new Orkney record for this event in a time of 1:09.08.
Next up were Kerris and Mia in the women's 100m freestyle, and the girls came in in 13th and 15th place, respectively, just slightly over their PBs. Angus and Molly then finished off a great week for the Orkney Island Games swim team, with PBs in the men's 50m freestyle for Angus (13th place, 25.54) and the women's 50m backstroke (Molly, 20th place, 34.49).
Looking back on the week, the Orkney swim team did themselves and their coaches proud, with some fantastic performances at the pool. Three finals, two 4th place finishes (so, so close…), three new Orkney records (two of which were smashed twice within a day) and numerous new personal best times. The swimmers can look forward to Gibraltar in 2 years time, with renewed focus. They can set their sights high, and with the confidence and experience gained at these Games, will be aiming for the podium next time round.
Going into the Gotland Games, there had been some misgivings about the size of the swimming venue and number of lanes, but all such doubts were swept aside as the week progressed and the organisers, particularly Björn Buse the swimming coordinator, are to be congratulated on organising a very successful Island Games swimming meet. We will all look back very fondly on our week at the Solberga in Visby.
Orkney ASC and the Island Games Swim Team are hugely grateful to Speedo for providing competition suits for all four team members, JEP Robertson & Son for their generous sponsorship and ongoing support, Norsepharm for providing team poolside T-shirts, and to Sheila Fleet Jewellery, Northlink ferries Ltd, Orkneyurt.com, and the many other local businesses and everyone else who supported fundraising for the trip to Gotland.